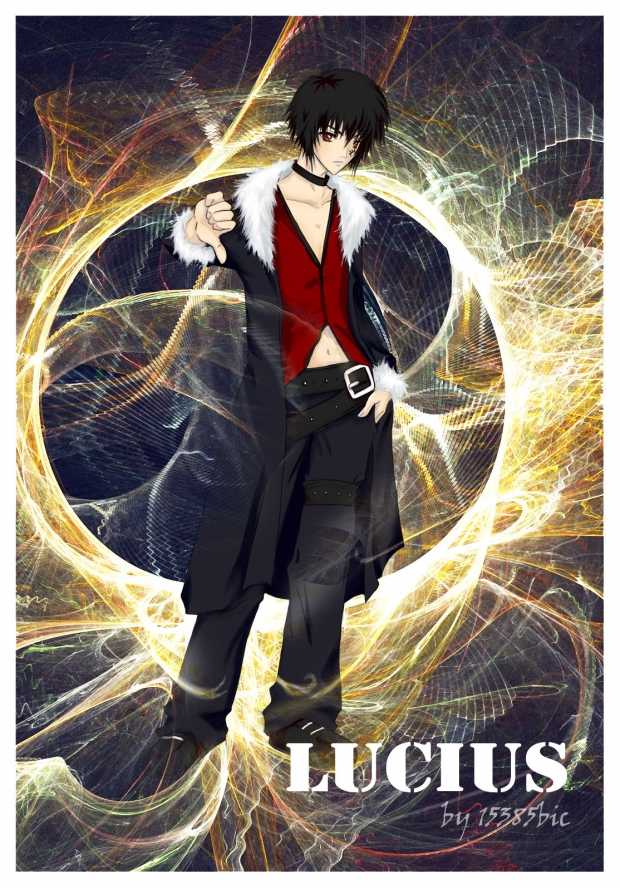 (No weird marking on the left eye, and the eyes are blue. The hair is somewhat longer, it swoops over and covers the left eye)
Personal
Name: Jo Stockton
Alias: none. it's just Jo
Birthdate: April 17
Gender: Guy
Alignement: Good
Faction: none at the moment
Personal v2
Personality: Jo tends to be open-hearted to his friends, but very shy to people he doesn't know. Very soft spoken, he tends to not be loud unless he's having too much fun or in a situation that calls for it. He always tries to do what he can for a friend. He barely ever lies, since he thinks lying is pretty stupid. He hates a gloomy atmosphere and tries to brighten up the mood with something. He admires honesty and bravery greatly.
Fears: Loneliness, death, snakes
Likes: Fun in general, friends, music, naps
Dislikes: Rude awakenings, hateful rude people, awkward silences, secrets, nosy people
History
History: Jo lived in South Carolina until the age of 4. He moved to Tokyo Japan because his parents thought that Jo needed a new environment since friend making wasn't his forte. His only problem with leaving SC was that he would have to adjust to city life, but he looked forward to that challenge. Jo did his best to learn japanese and got just a bit of a grip on it when his family got to the city. His first years in elementary were...not the best. He honestly tried his best to make friends, but his natural shyness got in the way too much. he was beaten up a few times. Jo soon got tired of that and would defend himself to the point where the bullies just gave up on annoying him.
Eventually, Jo made friendships with a lot of people, though none of the relationships were very close. He was in a sense "popular" in the notion that people enjoyed talking to him and enjoyed his company. He was finally at ease about moving, no regrets or anything. Time would go by fast sometimes, the music listening and naps would definetly make the days feel short. Jo's definite goal in life is to be social with even people he has never even met. He has now just finished his Freshman year in high school and has made a bit more friends, and finally decided to try make some best friends.
Extra stuff:
Mom: (Donna) She is usually at work all the time, barely ever at home. She and Jo's relationship is strong, knowing that even though time spent together is short, they enjoy every moment.
Dad: (Clark) A very mellow man. He himself is never at home either like Jo's mother. He's not a talker and keeps a distance from the family which gives a bitter taste in Jo's mouth. He doesn't hate his dad, but he still feels a little uncomfortable with being near him. He hates it that he's actually shy towards his own father.
Digivice appearance: Inner layer baby blue, outer layer purple
Digicrest: I'm not sure which one (give a suggestion please? It would be greatly appreciated)
Source: Google
I finished! though that's pretty obvious on the title:P I can't wait for my digimon!! OMG! I totally have faith that you'll give me an awesome digimon. I'm too excited...

I love the app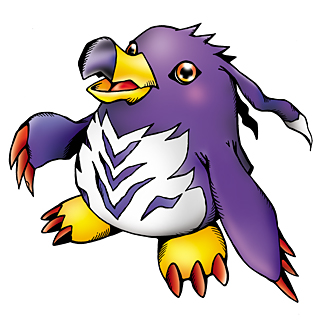 Your Digimon is Penguinmon.
Penguinmon is a loud, friendly companion. He treasures his friends closely, and prefers to keep things old and simple. He isn't really into anything new and just loves it when things are new, and classic. He refuses to do anything that he has never done, to the point of grabbing onto anything that will stay still to resist people from making him do it. He can be quite stubborn at times, and thinks he is quite the smooth talker. When he comes across someone new, e always waits for them to make the first greeting. always. And if they don't, he stares them straight in the eyes until they do.
Mega Tamer




Posts

: 161


Join date

: 2010-11-03



I love penguins! well anywho, i was just wondering what his in-training form will be. Just in case if i he ever de-digivolves lower than the rookie class. That'd be great to know:)
Mega Tamer




Posts

: 161


Join date

: 2010-11-03




---
Permissions in this forum:
You
cannot
reply to topics in this forum