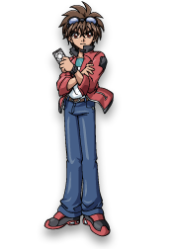 Personal
Name: Takeshi Izumi
Alias: Tai
Birthdate: 12 January 1998
Gender: Guy
Alignement: Good
Faction: D.A.T.S.
Personal v2
Personality: Takeshi is the total opposite of his older and more mature brother, Tsubasa. He is more carefree, adventurous, bubbly, cheerful and always up for a laugh! Though, he is less responsible and is one of the worst academic achievers in school, but he is one of the best athletes in Tokyo. He played football and won many awards. People like to compare him and Tsubasa like "Heaven and Hell".
Fears: Zombies, Death
Likes: Sports, Girls, NERF, Video Games
Dislikes: Studying
History
History: Takeshi grew up in a small apartment somewhere near the borderline of Osaka. When he was 2 years old, Tsubasa's parents were both murdered by a gang of serial killers when walking back from work. After Tsubasa and his brother had figured out the news, they were sent for adoption, by a successful businessman along with his wife. Takeshi learnt to let go of the past and treasure the present after a few months.
When he went to elementary, he was the fun and enthuthiastic type of person where everyone wants to go near him compared to his older brother. This led him to a more happy childhood and gained passion in socializing and sports.
Digivice: Inner Layer Blue, Outer Layer Whiteish-Gray
Backpack Contents:
- D-3 Digivice
- D-Terminal
- iPhone 3G
- Thin Jacket
- Goggles
- PSP
- Wallet
Last edited by Takeshi on Sat Jul 30, 2011 8:43 pm; edited 2 times in total



Posts

: 1


Join date

: 2011-07-21



Ok, same with you, use the code I set out, it's not much, just changing the color of everything. once you got that, bump the topic.
Mega Tamer




Posts

: 161


Join date

: 2010-11-03



Oh, sorry, one more thing, just in your history, mention the things that were different, even if they were small. And if not, just copy and paste it, no big deal.
Mega Tamer




Posts

: 161


Join date

: 2010-11-03





Similar topics
---
Permissions in this forum:
You
cannot
reply to topics in this forum