Name: Ina, Sachiko
Nickname: None yet
Age: 15
Height: 5'1
Weight:101 pounds
Gender: Female
Alignment: Neutral (She isn't even sure that she want to align herself with anyone yet)
Birth Date:1995
Birth Place: Kyoto, Japan
Personality: Can be hard to deal with since she usualy clams up. She isn't much of a peoples person. If she does open up to someone, they'll be surprised to find such a caring and loving person. She has a hard time dealing with kids(Her definition of kids are people two years younger than her and below). She is very defensive, and does generally not enjoy practical jokes.
Appearance:
Sachiko has long white hair with a lot of volume(if it's possible to tend to it, a few days in the digiworld and it'll be a mess). It covers her left side of the face. Her eyes are green, which is rather unusual for a japanese girl. She has a piercing i her right eyebrow. She is pretty skinny. She usually dresses in a mixture of Goth, Punk and Harajuku style.
History: Sachiko was always an outsider. She was never popular, and was bullied since kindergarten. She had one friend when she was around ten years old. When they were confronted one day her so called friend went over to the bullies side, in order to avoid being bullied herself. This caused Sachiko to put up defensive barriers around her heart, not letting anyone in, because she thought that she would be hurt again. She picked up online videogames, but the friends she got there were no more than virtual pretend-friends to her. One day she got a mail from one of them. She opened it, and blacked out. Next thing she knew she was lying face down in a plain, in the place she would later find out to be named the Digiworld.
Other Info: She has a mother and a father, both alive but divorced. She has no siblings, and no friends. Her father has a girlfriend, one Sachiko doesn't care for at all. Her parents let her do pretty much whatever she wants, as long as she's reasonable about it. They don't really interfere with her life.
Digivice Appearance: Black cover with pink edges.
Digicrest type: Love
Edit: Added some description that I forgot, as well as some info about her family.
Last edited by Sachiko on Thu Nov 11, 2010 2:10 am; edited 1 time in total
You are.... *Drum Roll*
APPROVED!
You get the Digimon.....
BIYOMON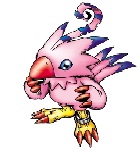 Gender: Female
Personality: Biyomon is a soft spoken, warmhearted Digimon. She does not approve of violence, and fights against it. She can seem very meek and shy at times, but that is only because she cannot think of what to say or does not know someone. She is also agaisnt any type of bullying or making fun of others, even if it is just playful bullying. She usually tries to avoid fighting, but when she does fight, it is usually defensive until she has no choice but to fight.
YOU CANNOT RP AS BIYOMON YET!! YOU MUST START AS HER IN TRAINING DIGIMON FIRST UNTILL I ALLOW YOU TO DIGIVOLVE INTO ROOKIE!! HER IN TRAINING IS..... PUWAMON!!!!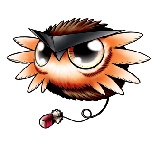 Mega Tamer




Posts

: 161


Join date

: 2010-11-03



Score! My favourite

So now I'm free to RP, right?
Also, if you want, I can add you to the DATS
Mega Tamer




Posts

: 161


Join date

: 2010-11-03



Sure. What exactly does that mean for me(as in, does anything major change for my character)?
Also, she might not join right away. She is still neutral and not set for joining anyone right now, so you'll probably have to convince her


---
Permissions in this forum:
You
cannot
reply to topics in this forum